2014 NEW YEAR'S PHOTO CARDS COUNTDOWN
Here's the countdown of our top ten New Year's photo cards, each a delightfully different way to say 'Happy New Year' to the ones you love.
Make your New Year's resolution the focus of your fun and memorable greeting on this two-sided photo card.
Shop Now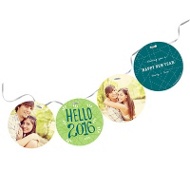 Say hello to 2014 with one of our most unique designs, a Golden Pear.™ This particular Golden Pear features four circles strung on a silver ribbon, each with a photo or message to personalize.
Shop Now
A simple way to say Happy New Year, this New Year's postcard has room for two photos as well as plenty of personality.
Shop Now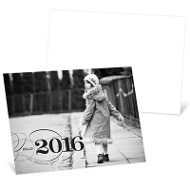 One of our favorite New Year's photo card ideas, this design showcases your awesome photo with a beautifully swirling New Year's greeting.
Shop Now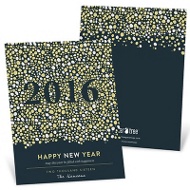 Like the bubbles in your champagne, these New Year greeting cards rise to the top! Change the color of the yellow bubbles and text to complement the midnight blue background.
Shop Now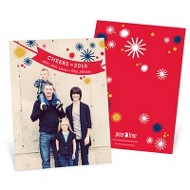 An explosion of starbursts creates a celebratory mood right out of the envelope. Add your favorite family photo to these Happy New Year cards and you're set!
Shop Now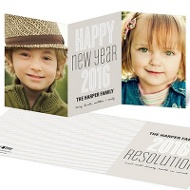 Get creative and dress up your photos with mustaches and lips! These vintage New Year cards feature two of your favorite photos in a trifold layout.
Shop Now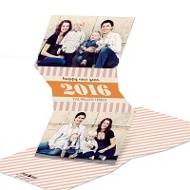 From the perfect combo of pink stripes and orange background, to the eye-catching v-cut edges of the middle panel this card is a knockout.
Shop Now
Make your countdown to the New Year with dancing numbers in bright blues and greens, with your photo and message in stylish frames and a wood grain background!
Shop Now
One word says it all, especially when it's sparkling with our new faux glitter look. And one photo is all you need to create these eye-catching New Year's cards.
Shop Now
Quick and Easy Personalization
Create your New Year's cards in minutes with your favorite photos, personal greeting and over 70 color choices! These unique designs are printed on premium 100-pound, matte-finish card stock and shipped in 1-2 days!
Happiness Guaranteed
We want you to be delighted with your order, and putting that smile on your face is our first priority. If for some reason you are not completely satisfied, please let us know and we'll do whatever we can to make it right. Happiness guaranteed!